TRAIN [SKILLS. RESILIENCE. PERFORMANCE.] SAVE LIVES
Medical first responders are confronted with an increasing number of mass-casualty incidents with a large number of injured persons. The proper evaluation of the situation itself, checking and monitoring the vital status of a large number of victims, and choosing the most appropriate strategy to further proceed with treatments are particular challenges.
MED1stMR develops innovative mixed reality training technology to combine real-world medical simulators with virtual environments to train medical first responders for these challenges.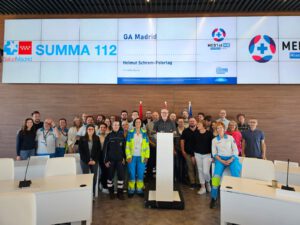 On the 17th & 18th April 2023, the MED1stMR consortium gathered together for a General Assembly at the facilities of our partner
Read More »
CURIOUS ABOUT THE STATUS OF THE PROJECT?
Be informed about the latest news, upcoming events or scientific and technological background information on the mixed reality project MED1stMR. Stay tuned on field trials and the final conference to meet other end users, stakeholders and scientists as well as engineers to learn more about training for medical first responders in a virtual environment enhanced with haptic feedback and stress measurement.