TRAIN [SKILLS. RESILIENCE. PERFORMANCE.] SAVE LIVES
Medical first responders are confronted with an increasing number of mass-casualty incidents with a large number of injured persons. The proper evaluation of the situation itself, checking and monitoring the vital status of a large number of victims, and choosing the most appropriate strategy to further proceed with treatments are particular challenges.
MED1stMR develops innovative mixed reality training technology to combine real-world medical simulators with virtual environments to train medical first responders for these challenges.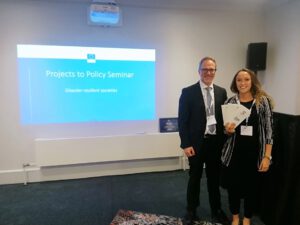 The European Research Executive Agency hosted the project to policy seminar on the 30th June – 1st July 2022 in Brussels
Read More »
CURIOUS ABOUT THE STATUS OF THE PROJECT?